Beader's Challenge
Posted on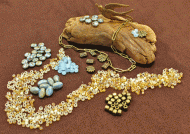 Introducing our  "Beader's Challenge":
BIRDS OF A FEATHER
This is going to be fun! It is a way to challenge yourself with a pre-selected set of components. We are excited to see what you all come up with from this kit inspired by nature.
To participate, you must purchase a Design Kit ($24) from The LH Bead Gallery which is filled with Vintage Czech beads, metal beads, antique bird pendant, chain, Czech glass lentil beads and fire polished beads and seed beads in two colors.
RULES:
*All work must be original design.
*Only 1 item may be made using the kit.
*Each entry must include the antique bird pendant and some of the chain. All varieties of beads included in the design kit  MUST be used. The quantity of beads used can fit your design.
*You may only add your own clasp, stringing material, artistic wire, Lacey's stiff stuff, leather, cuff base, plain headpins. That is it. No additional beads are allowed in this challenge, just what is in the kit.
*One entry per person.
*Out of town entries must pay a (to & from) shipping of $10 to send the kit to you and return your piece after the contest ends.
*All contest entries must be picked up within a month after the contest ends or the item will be donated.
WHEN:
Entries accepted through Saturday, February 23, 2013. All entries will be displayed anonymously at The LH Bead Gallery and online at www.lhbeads.com , as well as on our Facebook page. Votes will   be collected (only in the store) until March 16th, 2013 and the winner will be announced March 19th, 2013.
PRIZES:
Bead Gallery Gift Certificates:
1st place – $150
2nd place – $100
3rd place – $50
It is going to be fun to see all the different designs that are made by using identical kits. We have a limited supply, so be sure to come in soon to get your kit. Beaders, I challenge you: are you ready to win a gift certificate and show off your wonderful creations? Let's get busy and create a unique piece to showcase your creativity, individuality, and artistic expression. See you soon!!!!