#850 Strong Charms – 100% of your donation goes to local schools – Shipping $3
$10.00
#850 Strong is not only a saying, but a word of Hope we have come to live by in our area. As a local business owner, and someone who loves Panama City, I have felt a strong desire to do my part to give back to our community. This commissioned two-sided custom charm is not only to remind us of how strong we've become but to continue to bring hope to others.
Please join The LH Bead Gallery as we use these charms to help raise money for one of our local schools! We have now partnered with Parker Elementary School. The Principal, Mr. Coan has opened up a Hurricane relief fund to help the staff and students who have been heavily impacted by the storm. Your donation will be a great help.
UPDATE -Our newest school we have partnered with is now Parker Elementary School! So far we have raised $5,900 for Cherry Street School, $6000 for Cedar Grove Elementary School, and o $6000 for Bay High School. We have exceeded our goal for Rutherford High School after the local news did a story and raised $7700. We have also raised $6,000 for Margaret K. Lewis School and $6,000 for Jinks Middle School bringing a total raised so far $37,600. Thank you all for sharing posts and telling friends about this fundraiser to help our schools.
These charms can be purchased at The LH Bead Gallery on 550 Harrison Ave. in Downtown Panama City. #850-257-5800.
Get a free charm with every $10 donation and 100% of your donation will go to this school's fund! My hope is these charms will not just help raise money but give hope to the person the charm is given to and remind them that we are in this together! Believe in the future, never give up! #850Strong!
*Image shows the front and back of the charm. The color is pewter. These are very good quality and will last a lifetime. PLEASE NOTE – The online site automatically puts a flat rate shipping fee of $8.00 on the site. You will be charged $3.00 for the charm/charms to be shipped in a bubble mailer. If the order is a large amount (these charms have a good weight) the shipping will be the flat rate price of $8.00.* If you have questions or concerns please call the store. We are doing our best to get these out to you in a timely manner. Remember these charms were a 100% donation and there are fees involved for using credit cards and taking time to mail and package them up. We want to make this convenient for you. The shipping fee is as least expensive as we can make it. Thank you
These images are customer inspired pieces using the #850 charms. If you would like to have us create something, feel free to give us a call and we can quote you prices.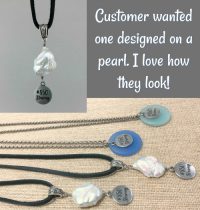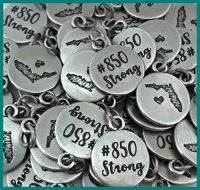 55 in stock