Tucson Treasures Golden Ticket
$100.00
What is a Golden Ticket?
That time of year is coming up fast and for this event we are introducing a new and exciting shopping experience to kick off the Tucson Reveal. A Golden Ticket will give you earlier special (exclusive) access to all the hand picked treasures we will be bringing back from this year's trip to Tucson.
As you well know in past Tucson Reveals we have a limited amount of products that sell out during this event. This GOLDEN TICKET will give you special access to all the NEW goodies before anyone else!
Purchase your $100 Golden Ticket for this event and you will receive….
A $100 Gift Certificate that you can spend through May 31, 2019.
A special gift for Golden Ticket holders only.
Special store access! You will have "Golden Ticket" status for the event and will be able to see all the treasures the day before anyone else! The store will be closed during this event so you will shop without the crowds.
All Golden Ticket holders will be entered into a drawing to win a special gift brought back from Tucson!
Light refreshments will be provided
When: Thursday, February 21st from 4:00 pm – 8:00 pm
Where: The LH Bead Gallery
Deadline: Purchase your ticket by January 31st
Come join the fun, TICKETS can be purchased online by clicking the Golden Ticket image, they can be purchased in store or by phone with a credit card.
***Golden Ticket required to get in***
***This is an adults only event & enjoy some me time!
***This ticket is non-refundable***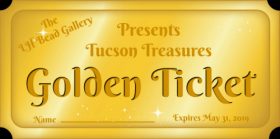 30 in stock