How Czech Glass Buttons are made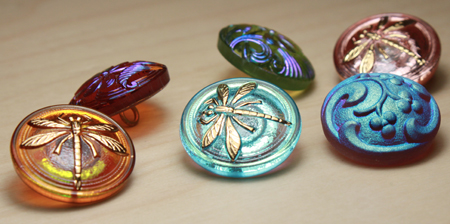 STEP 1 – MATERIALS
These are the negatives used to make the molds for the buttons. These negatives are valuable, and one of a kind, as they are the first step in the process of making the Czech Glass Buttons.
The negatives seen above make the molds. These hand-presses, with the molds inside, are what actually create the buttons.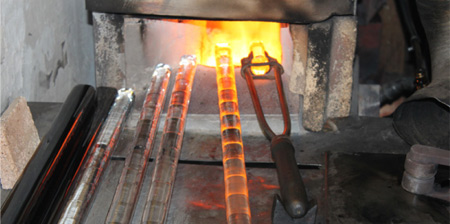 Glass rods of different colors first get melted in the oven.
STEP 2: PRESSING
The shank of the button gets placed inside of the mold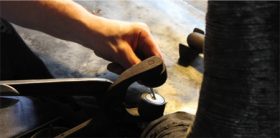 Then he takes the molten glass, and presses it into the mold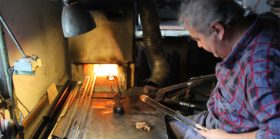 He carefully cuts the extra glass away with a pair of scissors.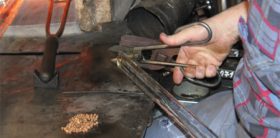 Open the press….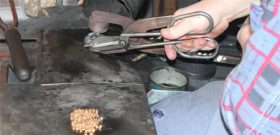 And behold! A new Czech Glass button is born! (its still a bit crude, though).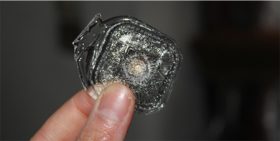 Step 3: FINISHING
The czech glass button you just saw gets its edges smoothed along a machine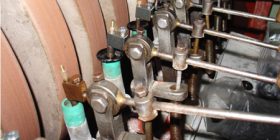 And the final touches include either hand painting…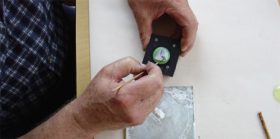 Or more often, a particular chemical coating that then gets fired in the oven.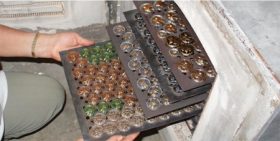 Recognize these buttons? True craftsmanship, born out of hundreds of years of experience.